Fish Veracruz Recipe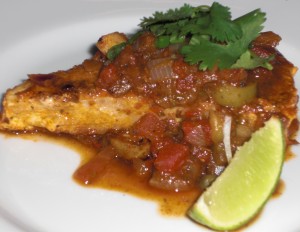 Sablefish, also called Black Cod and Butterfish, is a fatty cold water fish that is high in Omega 3's. Consumption of ample amounts of Omegas 3's and following the Mediterranean and/or Anti-inflammatory diet is highly encouraged in the fight to slow down the onset and progression of Alzheimer's. Fish Veracruz is a traditional dish prepared in the East (Caribbean side) of Mexican whose cuisine was highly influenced by the early Spanish settlers in the region and their Mediterranean cooking style.
Ingredients
12 oz. Sablefish (Black Cod/Butterfish) or Halibut or Sea Bass, 3 oz. fillets
1 pinch Salt
⅛ tsp. Pepper
2 tsp. Garlic Powder
2 Tbls. Chili Powder
1 Tbls. Avocado Oil
6 oz. Onions, diced (about 1 medium onion)
2 each Jalapeno peppers, seeds and pith removed, minced
1 tsp. Rosemary, chopped
½ tsp. Dried Thyme
2 tsp. Cilantro leaves, dried
1 each Bay Leaf
½ cup Green Olives, sliced
2 tsp. Cumin power
1 cup Fish Stock
1 can Diced tomatoes (14.5 oz.), un-drained
2 Tbls. Lime Juice
¼ cup Capers, drained
Instructions
Remove skin and any pin bones from fish fillets.
Season one side of fillets with salt and pepper, garlic and chili powder.
Heat sauté pan until hot on medium high then add avocado oil and swirl around until it coats the bottom surface of the pan. Add fillets to pan (seasoning side down) and cook them until their edges start to become opaque. Flip fillets and continue to cook other side until fillets are cooked opaque in color all the way through. Remove fillets from skillet and set them aside on a platter.
Add the onions and jalapeno to the pan and sauté them until the onions are soft (3-4 minutes) then add rosemary, thyme, cilantro, bay leaf, olives, cumin powder, fish stock, tomatoes, and lime juice to the skillet. Reduce heat and simmer mixture for 8-10 minutes then add capers. Return fish to the skillet and cover with lid to reheat fillets over the simmering sauce (2-3 minutes). Remove bay leaf and discard.
Divide portions of warmed fillets among individual serving plates and spoon hot sauce on top of each fillet. If desired, garnish with fresh cilantro and/or sliced scallions and lime wedges.
Nutrition Information
Calories:
305,
Fat:
21g,
Carbohydrates:
15g,
Sodium:
416mg,
Fiber:
4g,
Protein:
14g,
Cholesterol:
46mg