01, 19, 2015
Posted By TheraCuisine
Comments Off

on ADHD-Fighting Chicken Nuggets and Homemade Barbecue Dipping Sauce
Chicken Nuggets & Barbecue Dipping Sauce Recipe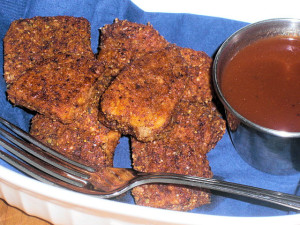 Inattentive, hyperactive kid's behavior disorders can be improved when they are feed a diet high in protein, omega 3 fatty acids, and organic foods. This is virtually impossible to achieve when they consume processed convenience and fast foods. Therefore, making this kid friendly-dish from scratch at home will offer your child a dish that will encourage their good health and well-being.
Ingredients: (Buy as many products below that are labeled organic as you can possibly afford)
Ingredients
1.5 lbs. Organic Chicken Breasts, boneless, skinless
½ cup Quinoa Flour
1.5 Tbls. Chili Powder
1 tsp. Paprika, smoked
1 tsp. each Mustard and Garlic Powder
½ tsp. Poultry Seasoning
½ tsp. each Ground Black Pepper and salt
½ tsp. Oregano
¼ tsp. Turmeric Powder
2 Tbls. Flax seeds, ground, golden or brown variety
BBQ Sauce:
1 cup Tomato Puree
¼ cup White or Cider Vinegar
1 Tbls. Maple Syrup or honey
¼ tsp. Mustard Powder
1 Tbls. Worcestershire Sauce
¼ tsp. Freshly ground black pepper
2 pinch Cayenne pepper (optional)
½ Tbls. Onion Powder
As needed Extra light Olive Oil for frying or *spray for baking
Instructions
(Nuggets): Pat boneless, skinless chicken breasts dry with paper towels and pound them gently between plastic wrap using the flat side of a meat mallet to flatten the meat to a thickness of about ½ inch. Cut the flattened meat into approximately forty eight ½ ounce nuggets.
Combine flour, chili powder, paprika, mustard and garlic powder, poultry seasoning, pepper, salt, oregano, turmeric and flax seeds together in a shallow bowl. Set aside.
Dredge or shake the chicken pieces in the seasoned flour mixture. Lay the flour-coated pieces on a rack or wax paper covered tray and let them rest for 30 minutes at room temperature to allow the coating to set. (Note: Fish such as halibut or black cod can be substituted for chicken in this recipe for an additional boost of Omega 3's. However, do not pound the fish pieces first but, proceed with all other steps as written).
Fry the pieces in batches in a pot filled with about 1-2 inches of Extra Light olive oil that has been heated to about 350 °F. Fry pieces until they are cooked completely through (test by cutting one of the biggest pieces in half to ensure it is no longer pink in the center). Drain the pieces on absorbent paper towels and keep warm in a 250°F oven until ready to serve.
(BBQ Sauce): In a saucepan combine the tomato puree, white vinegar, maple syrup, Worcestershire, pepper, cayenne and onion powder. Bring mixture to a simmer and cook for 5 minutes. Remove from heat and portion sauce among six small sauce cups or ramekins.
Serve eight nuggets with one sauce cup (about 1.5-2 ounces of BBQ sauce) per serving.
Notes
*Tip: Instead of frying the chicken pieces in oil, they can be baked in the oven. Skip step #3 (above) and instead, spray the surface of the rested flour-coated chicken pieces with olive oil cooking spray. Turn pieces over and spray the other side. Place sprayed pieces on a cookie sheet (one layer thick) and bake in a 350°F oven until pieces are cooked completely through and no longer pink in the center. If you are cooking for someone who is salicylate sensitive, replace the tomato puree with 1 cup of butternut squash puree or pureed pumpkin and make a golden BBQ sauce. This recipe is also acceptable for a gluten-free, casein-free diet.
Nutrition Information
Calories:
238,
Fat:
6g,
Carbohydrates:
17g,
Sodium:
452mg
Fiber:
3g,
Protein:
29g,
Cholesterol:
69mg