01, 19, 2015
Posted By TheraCuisine
Comments Off

on ADHD-Fighting Apple & Walnut Crusted Pork Chops on a Stick (Chopsticks)
Apple & Walnut Crusted Pork Chops Recipe
Serves:
8 Servings (1 Chop / Serving)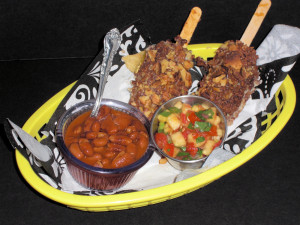 This kid-friendly entree is gluten-free and casein-free and is a great source of protein and a good source of B vitamins and omega 3 fatty acids.
Ingredients
24 oz. Pork loin chops, boneless (four, 6 oz. "thick cut" chops)
¼ cup Annie's Natural Brand Organic Balsamic Vinaigrette or other organic vinaigrette dressing or homemade
1 cup Erewhon Quinoa & Chia Cereal, (or) Van's Cinnamon Heaven(or) other organic gluten-free crispy cereal) about 2-3 oz.
1 Tbls. Ground Flax Seeds
1 Tbls. Walnut oil
1 Tbls. 100% Maple Syrup
1 Tbls. Apple Pie Spice
½ cup Quinoa Flour
2 large Eggs, pasture raised, organic, omega 3 rich type
¼ cup Chopped Apple Chips, organic (about ½ oz.)
¼ cup Chopped walnuts (about 1 oz.)
8 Popsicle sticks
Instructions
Cut chops (about 4 each 6 oz. boneless center cup loin chops) lengthwise into eight pieces. Place pieces in a re-sealable plastic bag and set in bag (open end up) in a shallow dish. Pour salad dressing over chops and seal bag. Marinate in refrigerator for about 1 hour turning the bag occasionally.
Place the cereal in another re-sealable plastic bag. Use a rolling pin to crush the cereal into a coarse crumb. Add the cereal crumbs to a shallow bowl and mix in the ground flax seeds, walnut oil, maple syrup and apple pie spice until all ingredients are evenly blended together. (An alternative method is to keep the cereal crumbs as a dry mixture in the bowl and separately mix the flax seeds, walnut oil, maple into another bowl to make a wet mixture to use as a drizzle).
Meanwhile, in two more separate shallow bowls add the quinoa flour to one and beat the eggs in the other. Set aside.
Coarsely chop the apple chips and the walnuts and combine them together, set aside.
Remove chop pieces from marinade bag and insert a Popsicle stick into the short side of each chop and pushing up lengthwise an inch or two. (If necessary, use a paring knife to make a slit before pushing in each stick).
Roll each chop first in the flour bowl until evenly covered, then roll each flour-covered chop in the beaten egg mixture until evenly coated, drain and then dredge in the cereal crumb mixture until evenly coated. Place the chops on a cookie sheet covered with non-stick foil. Drizzle any remaining egg evenly over each chop (and the syrup mixture if using this method). Next, sprinkle chopped walnuts and apple chip mixture over the chops and press them lightly into the top surface.
Bake in a preheated 350 degree F oven for 30 minutes or until meat is 160 degree F in the center. Insert a thermometer into the side of chops to test. Serve one to two chop sticks per portion (depending on your child's age and appetite).
Serve hot with an organic, gluten-free, casein-free, honey-mustard, unsweetened apple or pear sauce, or a fruit salsa.
NOTE: To Freeze and cook later: Chops can be frozen after step five and baked as described in step six after thawing. To prepare chops for the freezer flash freeze them on the cookie sheet. Once they are frozen solid pack them into an oxygen-free Food Saving Package. To thaw: Remove the chops from the bag when they are still frozen and thaw them covered lightly with plastic wrap in the refrigerator overnight. Proceed with step six as written above.