11, 20, 2014
Posted By TheraCuisine
Comments Off

on Pumpkin Tamari Custard Tart with Coconut Tamari-Almond Crumb Crust
Pumpkin Tamari Custard Tart Recipe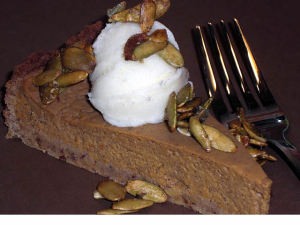 Tamari soy sauce is the "secret ingredient" in this nutritional gourmet dessert and it adds extra "umami" to its comforting flavors.
Ingredients
½ cup Almonds, Tamari dry roasted
½ cup Coconut flour
¼ cup Coconut sugar
1 tsp. Cinnamon
¼ cup Egg whites or cholesterol-free liquid pasteurized egg product
¼ cup Almond milk, unsweetened
½ tsp. Tamari soy sauce, organic
⅓ cup Coconut oil
1 tsp. Almond extract
1 tsp. Vanilla extract
13 oz. Pumpkin puree, canned
2 tsp. Pumpkin pie spice
½ cup Coconut milk
1.25 cups Egg whites or cholesterol-free liquid egg product, or whole eggs (if not limited to a low cholesterol intake)
½ cup Coconut sugar, organic
1 tsp. Tamari soy sauce, organic
Instructions
Add almonds to a food processor or blender and pulse until a dry crumb texture is obtained (do not over-grind into a creamy nut butter consistency). Pour almond crumbs into a bowl, add the coconut flour, ¼ cup coconut sugar and cinnamon, and combine well.
In another bowl, whisk together the egg whites, almond milk, tamari, melted coconut oil, almond extract and vanilla extract until homogenized. Pour wet ingredients into the bowl with the dry ingredients and stir all together well. The mixture will transform from a soft, wet batter, into stiffer cookie-like dough as the coconut flour absorbs the liquids.
Press the dough into the bottom and up the sides (about 1-1/4 inch) of a greased, nine-inch spring-form or tart pan. Place crust in a pre-heated 310 F degree oven (no hotter) for eight to ten minutes or just until set and dry (not browned). Remove crust from oven and set aside.
Meanwhile, in a bowl combine the pumpkin puree, pumpkin spice, coconut milk, egg beaters, ½ cup coconut sugar and tamari. Blend all together well and then pour mixture into the prepared crust. Return to oven and bake at 310 F degrees for 60-75 minutes or until filling is puffed to the center and edges are beginning to crack. Remove and cool thirty minutes to an hour before serving. Refrigerate any leftovers.
Serving Suggestion - Top each slice of tart with a scoop of coconut gelato and a sprinkle of candied pepitas (pepitas are hulled pumpkin seeds).
Notes
The fat in this recipe is mostly comprised of MCFA's (medium chain fatty acids). Medium chain fatty acids are known to be more healthful than long chain fatty acids (LCFA). Long chain fatty acids are the predominate type of fatty acids eaten by Americans. MCFA's have slightly less calories per fat gram than LCFA's (8.3 vs. 9) and they metabolize in the body faster and are used mostly for providing energy rather than for body fat storage (like LCFA's). MCFA's also promote the development of ketones. Ketones are one of two substances used by the brain for energy (the other is glucose) therefor, MCFA's are believed to be therapeutic for treating Alzheimer's and other aging-related brain conditions. And fermented soy, found in ingredients such as miso and tamari, are believed to help ease menopausal-related symptoms.
Nutrition Information
Calories:
173,
Fat:
12g,
Carbohydrates:
12g,
Sodium:
117mg,
Fiber:
4g,
Protein:
6g,
Cholesterol:
0mg