11, 24, 2015
Posted By TheraCuisine
Comments Off

on Pumpkin-Rum Tiramisu (with cultured cream cheese)
Pumpkin-Rum Tiramisu (with cultured cream cheese)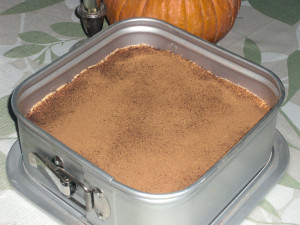 Tiramisu is a classic Italian dessert originating from Tuscany that was made in a square, rectangle or round pan and consisted of zabaglione (egg yolk and sugar custard) that had whipped cream and meringue folded into it and was then slathered between layers of sponge cake strips ("ladyfingers") that were soaked in liquor. A coating of sifted cocoa powder was then sprinkled on the top surface. Modern versions of this recipe often replace the zabaglione custard with triple-cream mascarpone cheese. My version replaces the mascarpone with a cultured cream cheese and adds pumpkin puree to supply a dose of probiotics and antioxidants to this special-occasion dessert. Therefore, during the upcoming holidays try this recipe and treat yourself to a healthier version of Tiramisu - which is just as divine and satisfying as the classic.
Ingredients
Dipping Liquid:
1-3/4 cup Espresso or very strong coffee (a strong pumpkin-spiced tea can also be used)
2 Tbls. Rum, or rum extract
1 tsp. Pumpkin pie extract, or vanilla extract
Pudding:
⅛ cup + 2 tsp. Truvia® Baking Blend, or 8 packets Truvia Natural Sweetener, or ⅓ cup raw honey
3 Tbls. Cornstarch, organic
1 pinch Salt
1-1/2 cup Evaporated skim milk
1 tsp. Pumpkin pie extract, or vanilla extract
¼ cup Rum or ¼ cup water + 2 tsp. rum extract
¾ cup Pumpkin puree, organic Farmer's Market Organic Pumpkin
8 oz. Nancy's Cultured Cream Cheese, Organic (go to www.nancysyogurt.com to find a store with this product near you)
1 cup CocoWhip - So Delicious Brand coconut whipped topping
Meringue:
Assembly:
Instructions
Make dipping liquid: In a shallow bowl combine the espresso, rum and pumpkin pie extract (first 3 ingredients) and set aside.
Make pudding: In a medium size saucepot, combine the Truvia or honey, cornstarch and salt. Gradually whisk in the evaporated milk to avoid lumps. Turn on the heat to medium-high and stir constantly until mixture comes just to a boil and has thickened. Remove pot from heat and whisk in the pumpkin pie extract, rum, cream cheese and pumpkin puree until smooth. Allow mixture to cool in the refrigerator. Once chilled, fold in the whipped topping.
Make meringue: Meanwhile, in a clean mixing bowl, beat the egg whites with clean beaters until the egg whites form soft peaks. Add the Truvia and continue beating until stiff peaks form. Lightly fold the whites into the pudding mixture just until evenly incorporated.
Dip Ladyfingers: Briefly dip the lady fingers in the reserved espresso dipping liquid just long enough to moisten their outer surfaces but not long enough to allow them to become soggy and fall apart.
Assemble: Line the bottom of a 9X9 inch square baking or spring-form pan with half of the dipped lady fingers positioning them in two rows of six. Spread half of the pudding mixture evenly over the surface of the ladyfingers. Sift half of the cocoa powder over the top surface of the pudding mixture. Repeat with another layer of dipped ladyfingers, pudding and then cocoa powder. Sprinkle or sift one teaspoon of pumpkin pie spice over the cocoa powder.
Store: Chill for at least four hours before serving. To make tidy straight cuts, freeze Tiramisu for two hours before cutting into 12 equal portions. Refrigerate any leftovers.
Notes
Notes: If desired, and for extra embellishment in addition to the ladyfingers, add 12 ginger snap cookies, Biscoff cookies, or Chocolate wafer cookies (your choice) that have been briefly dipped in the expresso mixture between the first and second layers of the Tiramisu. *If you are concerned about consuming raw egg products then use a pasteurized liquid egg white product, or reconstitute egg white powder to make ½ cup of liquid whites.

YIELD: 12 Servings
Per Serving: 245 Calories, 9g Fat, 104mg Cholesterol, 33g Carbohydrates, 7g Protein, 1g Dietary Fiber, 125mg Sodium