11, 14, 2014
Posted By TheraCuisine
Comments Off

on Hypertension-Helping Chocolate Brownies
Chocolate Brownie Recipe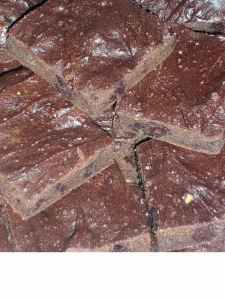 Cocoa powder and dark chocolate are good sources of magnesium. Magnesium is a mineral that acts like a very common blood pressure medication class called calcium channel blockers. Avocado adds potassium and healthy fat to this recipe. Potassium helps increase nitrous oxide levels in the body which relaxes blood vessels and lowers blood pressure. Typical brownie recipes include lots of oil but this one uses tasty avocado and nut butter instead. This recipe produces brownies that are chocolaty, chewy and moist.
Ingredients
⅓ cup Dutch-process cocoa powder
1.5 tsp. Instant coffee granules
½ cup + 2 Tbls. Boiling water
2 ounces Unsweetened chocolate squares, finely chopped
⅓ cup Avocado puree
3 Tbls. Almond Butter, (Earth Balance Brand Recommended)
½ cup Egg Beaters®, or Liquid Pasteurized Eggs, or four egg whites
2 tsp. Almond Extract
1-1/4 cup Coconut sugar or palm sugar
½ cup Brown sugar
½ cup Buckwheat Flour
½ cup Oat Flour, GF Whole Grain (Bob's Red Mill Brand Recommended)
½ cup Almond Meal (or ground almonds)
½ tsp. *Potassium Chloride Crystals (sodium substitutes) such as Morton's Salt Substitute or like product
¾ cup Bittersweet Chocolate Chips or Chocolate Chips with at least 60% cocoa
Instructions
Preheat oven to 350 °F. Spray a 9 x 13 inch baking pan with vegetable cooking spray (or) line pan with non-stick foil (or) line pan with foil that has been sprayed with vegetable cooking spray.
Place cocoa powder and coffee granules in a large mixing bowl. Add the boiling water and whisk ingredients together until smooth. Add the unsweetened chocolate and stir until chocolate is melted. Stir in the avocado puree, almond butter, eggs, and extract until well incorporated. Add the sugars and mix until well blended. Blend in the flours, almond meal and salt substitute until well incorporated. Fold in the chocolate chips. (As an alternative omit the almond meal and the salt substitute and reserve them to be used as a sprinkling on the top of the brownies instead. This lends a more distinct saltiness-like taste with each bite)
Spread batter evenly out into the prepared baking pan. Place pan in oven on lowest rack and bake for 25-30 minutes. Do not over bake! Remove pan from oven and place on wire cake rack to cool for 1 to 1-1/2 hours. Flip or invert brownies out of pan and onto the wire rack or cutting board in one big piece. Continue to cool brownies for about another hour.
When fully cooled, neatly cut brownies into 24, 2-inch bars.
Notes
*Consult with a physician before using any salt substitute that contains potassium chloride if you have kidney problems or take blood pressure, heart, or liver medicines, take diuretics, or have Addison's disease, or have tissue injuries such as severe burns, or have high blood levels of potassium (hyperkalemia). It is best to take potassium chloride salt substitutes with food or meals or to get your potassium from foods that naturally contain potassium. Only take potassium chloride as a high-dose supplement if your
doctor prescribes
you to do so and is monitoring your blood levels of potassium.
Nutrition Information
Calories:
124,
Fat:
6g,
Carbohydrates:
16g,
Sodium:
10mg,
Fiber:
2g,
Protein:
4g,
Cholesterol:
21mg