02, 11, 2015
Posted By TheraCuisine
Comments Off

on Grilled Gingered Pineapple
Grilled Gingered Pineapple Recipe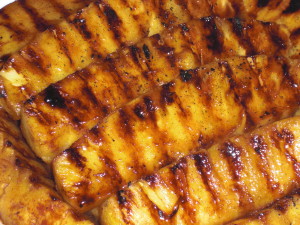 Pineapple is believed to help strengthen the libido because it is high in vitamin C and is a good source of manganese and bromelain. Also, ginger helps to stimulate the circulatory system and can thus improve sexual arousal. Therefore, this recipe is naturally a good choice to incorporate into any Valentine's Day menu.
Ingredients
1 each Whole pineapple
½ cup Coconut palm sugar, organic, or organic brown sugar
4 Tbls. Lime Juice
1 tsp. Ground ginger
½ tsp. Ground cinnamon
2 tsp. Crystallized Ginger, crushed
Instructions
Cut stem and end off pineapple, trim away rind. Cut trimmed pineapple into quarters lengthwise. Cut core edge off each quarter and then cut each quarter into thirds by making two lengthwise cuts in each quarter. (You should now have 12 long wedges or pieces).
In a bowl, mix the sugar, lime juice, ginger, and cinnamon. Stir until the sugar is dissolved.
On your cutting board, use the flat side of your chef's knife to slightly crush the crystallized ginger into rough crumb-size granules, set aside. (If your crystallized ginger is already in a rough crumb texture when you purchased it - skip this step).
Place the pineapple pieces in a 9 x 13 baking pan or cookie sheet with sides. Pour the syrup over the pineapple and then turn or roll each piece in the syrup until all sides are evenly coated with syrup. Let the pineapples slices marinate in the syrup until ready to grill.
Heat the grill and oil the grates - or spay the grates with non-stick cooking spray. (Alternatively, the pineapple can be grilled inside using a ridged skillet or cast iron skillet) Place the slices on the hot grill and cook about 3-4 minutes per side. Once the pineapple is grill marked and soft, remove from the pieces from the grill and transfer them to a serving platter.
Sprinkle hot pineapple pieces with the reserved crystallized ginger and serve.
Nutrition Information
Calories:
55
Fat:
0g,
Carbohydrates:
14g,
Sodium:
7mg
Fiber:
1g,
Protein:
0g,
Cholesterol:
0mg