11, 14, 2014
Posted By TheraCuisine
Comments Off

on Gluten-Free Italian Plum Coffee Cake
Italian Plum Coffee Cake Recipe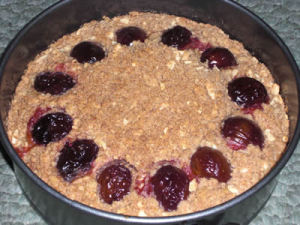 A gluten-free almond crumb cake base is topped with cinnamon streusel and purple plums.
Ingredients
⅓ cup Whole grain brown rice flour
⅓ cup Gluten free whole grain oat flour
½ cup Brown sugar or coconut sugar
¼ cup Almonds, chopped
½ tsp. Nutmeg
1 tsp. Ground Cinnamon
4 Tbls. Butter (or for vegans a Vegan stick margarine such
as Earth Balance buttery sticks)
½ cup Coconut sugar
1 cup White rice flour, or *whole grain brown rice flour
½ cup Potato Starch (or) corn starch
½ tsp. Guar gum
½ tsp. Baking powder
2 large Eggs
½ cup Almond Milk, unsweetened, vanilla
½ tsp. Almond extract
6 whole Italian, French or European (Prune) plums, fresh, halved, pitted, (or) dried plums, *rehydrated
Instructions
Preheat oven to 350˚F. Grease a 9-inch round cake pan or spring form pan.
Rinse plums and cut them in half by running your knife around the fruit against the pit. Twist the two opposite sides in opposite directions to separate the fruit into two halves. One side will contain the pit and one side will not. Pop or cut the pit out, discard it and set both pitted halves aside. Repeat with the remaining plums.
Combine first seven ingredients in a bowl. Cut butter into mixture until a coarse crumb texture is achieved. Set aside.
In another bowl combine the sugar, rice flour, potato starch, guar gum and baking powder and salt. Stir eggs, almond milk and almond extract into the dry ingredients. Mix until a soft dough is formed. Spread dough into the prepared pan.
Sprinkle reserved crumb topping on surface of dough.
Slightly press the twelve pitted plum halves (cut side down) around the inside edge of the pan like the positions of the numbers on a clock.
Bake for 30 to 40 minutes.
Cool and cut into twelve slices by cutting between each plum half so that each slice has one plum half.
(Optional) Serve each slice with a dollop of mascarpone cheese or Greek yogurt.
Notes
If you don't have availability to fresh plums, dried pitted plums can be used as a substitute. But, rehydrate the dried plums before placing them on the coffee cake batter. You can do this by pouring enough boiling water over the dried fruits to cover them completely in liquid then let them soak until they are plumped (about 5-10 minutes). Brown rice flour is higher in fiber, protein and fat and lower in carbohydrates then white rice flour.
Nutrition Information
Calories:
233,
Fat:
9g,
Carbohydrates:
35g,
Sodium:
102mg,
Fiber:
2g,
Protein:
4g,
Cholesterol:
67mg