11, 14, 2014
Posted By TheraCuisine
Comments Off

on Gluten-Free Chocolate "goldfish" Snack Crackers
Chocolate Snack Crackers Recipe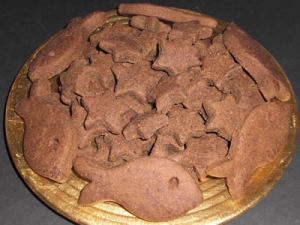 These gluten-free snack crackers taste like the little teddy bear shaped graham crackers kids love to eat and they can be made in the shape of goldfish, animals, and holiday-themed shapes such as stars, hearts or shamrocks.
Ingredients
1 cup Brown rice flour
⅔ cup Oat flour, gluten free, whole grain
⅓ cup Cocoa powder, unsweetened
¼ cup Mochiko (sweet rice flour)
¼ cup Tapioca starch
¼ cup Coconut flour
½ tsp. Guar gum
½ tsp. Baking soda
½ tsp. Salt
¾ cup Almond milk, unsweetened
½ cup Coconut sugar
⅔ cup Butter, melted
½ tsp. Vanilla extract
Instructions
Preheat oven to 350 °F.
In a large bowl combine brown rice flour, oat flour, cocoa powder, Mochiko, Tapioca starch or flour, coconut flour, guar gum, baking soda, and salt.
Blend milk, coconut sugar, melted butter, and vanilla into the dry ingredients to make wet dough that will stiffen as the coconut flour absorbs the liquids. Form dough into a ball and place in the refrigerator for at least 20 minutes.
Remove dough from the refrigerator and dust a a sanitized, dry, flat counter top with some gluten-free baking flour.
Flatten and roll out the dough ball to a ⅛ - ¼-inch thickness. Use a goldfish bite-sized or other small shaped cookie cutter of your desire to cut out as many crackers from your dough as possible. Place crackers onto a lightly greased cookie sheet or cookie sheet lined with silicon baking mat or parchment paper sheet.
Bake crackers for about 10-14 minutes for goldfish size, or 20 minutes for larger shaped crackers
Remove crackers from cookie sheet and place on wire rack until cool and crisped.
Store crackers in a tightly sealed container.
Nutrition Information
Calories:
167,
Fat:
9g,
Carbohydrates:
19g,
Sodium:
195mg,
Fiber:
2g,
Protein:
3g,
Cholesterol:
22mg