02, 11, 2015
Posted By TheraCuisine
Comments Off

on Coconut Crème Caramel Recipe
Coconut Crème Caramel Recipe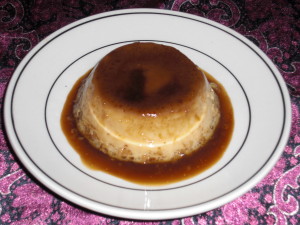 This velvety-creamy dessert is dairy-free and gluten-free. It also provides a good source of vitamin B-12 which is good for the brain, nervous system and red blood cell production. I suggest you serve this dessert on Valentine's Day topped with "Grilled Gingered Pineapple" and "Strawberry & Lavender-Honey Champagne Sauce" as a tantalizing and nutritious combination of sensual ingredients and flavors.
Ingredients
⅝ cups Coconut Milk, organic, unsweetened
¼ cup Coconut palm sugar, organic (divided)
1 tsp. Coconut oil, melted
2 large Eggs, organic
½ tsp. Pure coconut extract, or ¼ tsp. coconut candy oil or essential flavoring oil
Instructions
Mix coconut milk with ⅛ cup coconut palm sugar and bring to a boil stirring constantly. Remove from heat and cool.
In a skillet heat remaining ⅛ cup of sugar and coconut oil on medium (stirring constantly) until the sugar melts and becomes a caramelized, thick and soft, liquefied, light-brown mixture (about 2-3 minutes).
Divide caramelized sugar mixture between the bottoms of two Pyrex custard cups. (Don't worry it mixture is not spread out evenly on the bottoms – it will spread out during cooking)
Beat eggs with the cooled coconut milk mixture, add coconut flavoring oil; blend well.
Pour custard mixture over the caramelized sugar in the custard cups. Place cups in a cake pan. Carefully pour boiling water into the cake pan (be careful to not splash water into the custard cups). Place pan in a preheated 400 degree F oven for approximately 25-30 minutes or until mix is solidified but not puffy.
Remove from oven and remove custard cups from water bath pan to allow them to cool. When cool, remove custard from cups by loosening outer edges with a knife; then place a serving plate on top of the cup and flip both over (invert) so that the custard and caramel comes out on the plate with the caramel on top and the baked custard is sitting on the bottom.
Notes
This recipe is also delicious served with a dollop of whipped cream, non-dairy whipped topping or whipped coconut cream (spiked with banana liquor or flavoring) then garnished with sliced bananas and a sprinkling of toasted unsweetened coconut shavings.

Per crème caramel serving: 207 calories, 9g fat, 25g Carbohydrates, 6g Protein, trace Dietary Fiber, 212mg Cholesterol, 88mg Sodium

Per suggested combination of crème caramel, grilled pineapple and strawberry & lavender sauce: 320 calories, 9g fat, 53g Carbohydrates, 7g protein, 2g Dietary Fiber, 212mg Cholesterol, 93mg Sodium