Sweet Potato & Apple Pancakes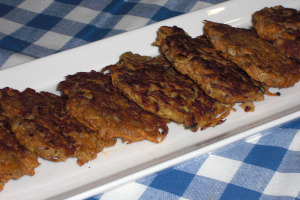 Pancakes are not just for breakfast - they can also be offered as a lunch or dinner entree or as a side dish or snack, as well! This recipe is a great parve choice to serve during Hanukkah. It is also a strongly anti-inflammatory recipe, which means it is a good recipe option for those
who are battling
inflammation-related diseases such as heart disease, arthritis, diabetes, and colitis (to name a few). If you serve these with a milchik (dairy) meal, these pancakes taste great with a sprinkling of sharp cheddar cheese melted on top!
Ingredients
2 cups Sweet potatoes, raw, peeled & grated (about two 5-6 oz. potatoes)
1 cup Apples, raw, washed, unpeeled, cored, grated (about one large 6 oz. apple)
⅜ cup Scallions, sliced ¼" thick (about 1 oz.)
½ cup Pasteurized no-cholesterol liquid egg product, or egg whites (about 4 oz.)
¼ cup Coconut Milk, lite, unsweetened, Kosher certified parve
2 Tbls. Whole wheat flour (about ½ oz.)
1 tsp. Ground ginger
½ tsp. Ground cinnamon
¼ tsp. Salt
¼ tsp. Ground pepper
⅛ tsp. Nutmeg
2 Tbls. Olive oil
Instructions
Peel and grate sweet potatoes and peel, core, and grate apple by using a hand grater or a food processor fitted with a grating disk. Bundle grated ingredients into a clean cheese cloth or dish towel and twist or roll up the cloth to squeeze out excess liquid from the apple and potato mixture. Place mixture into a bowl and combine with the remaining ingredients (except oil) to create a coarse batter.
Add about ½ the oil into a large skillet or sauté pan and heat on medium.
Add a scant 2.5 – 3 oz. of batter per pancake (1/3 – ½ cup) into the heated skillet to create four 3"diameter pancakes. Cook pancakes on one side until golden brown on the bottom, flip and cook the remaining sides until golden brown.
Remove cooked pancakes and repeat process with the remaining batter and olive oil.
Serve pancakes with fruit topping, maple syrup, a dollop of non-dairy yogurt or as an accompaniment with savory foods and dishes.
Nutrition Information
Calories:
188,
Fat:
8g,
Carbohydrates:
24g,
Sodium:
203mg,
Fiber:
4g,
Protein:
5g,
Cholesterol:
0mg