Roasted Carrot Dip Recipe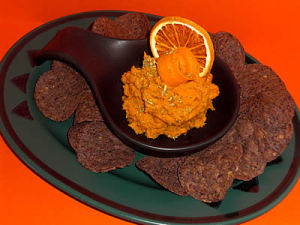 This dip is full of anti-inflammatory ingredients that help combat arthritis pain.
Ingredients
1 lb. Carrots
2 cloves Garlic, peeled, crushed
1-1/2 tsp. Extra virgin olive oil
¼ tsp. Turmeric
⅛ tsp. Ground Black Pepper
½ Tbls. Olive oil
¼ tsp. Tarragon leaves, dry, chopped
¼ tsp. Chervil leaves, dry, chopped
4 Tbls. Orange juice
½ tsp. Ground ginger powder
¼ tsp. Orange extract (optional)
Instructions
Preheat oven to 375° F. Toss carrots and crushed garlic in 1-1/2 teaspoons of olive oil and place on a baking sheet. Cook in oven until the carrots become tender and slightly browned, about 45 minutes to one hour.
Remove from oven and place roasted carrots and garlic in a food processor along with the remaining ingredients. Process until smooth. Alternatively, the ingredients can be pureed using a hand immersion blender. If mixture is tight or dry, add a few more drops of orange juice to loosen it to your desired dipping consistency.
Place mixture in a chip and dip platter bowl and serve dip warm or cold. Surround dip bowl with healthy type chips and garnish (optional) with a carrot curl and a dehydrated or fresh orange slice and a sprinkling of tarragon.
Nutrition Information
Calories:
56,
Fat:
2g,
Carbohydrates:
8g,
Sodium:
24mg,
Fiber:
2g,
Protein:
1g,
Cholesterol:
0mg