Pumpkin & Chick Pea Puree Recipe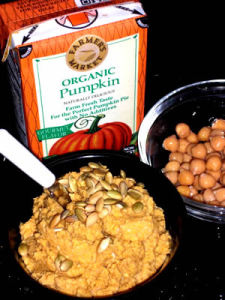 This recipe can be used as a dip, sandwich spread, or topping or sauce for grilled meats and vegetables and is a good source of isoflavones which are known to help lower the prostate-enlarging hormone called dihydotestosterone (DHT). This recipe also provides a very good source of vitamin E, folate and fiber, which are also beneficial in managing prostate health.
Ingredients
1 cup Tempeh
1 tsp. Almond Oil
¼ cup Minced Onion
2 Tbls. Minced Garlic
14.5 oz. Pumpkin Puree
14.5 oz. Chick Peas (Garbanzo beans), canned,
drained (about 10 oz.)
1 Tbls. Pumpkin Oil
½ tsp. Ground Cinnamon
¼ tsp. Ground Nutmeg
Instructions
Crumble Tempeh and place in food processor bowl.
Sauté onion and garlic in almond oil until onions turn translucent and soft, about 2-3 minutes. Remove from heat and add onions and garlic to the food processor bowl.
Add remaining ingredients to the processor bowl and blend mixture until smooth.
If necessary, blend in a few tablespoons of water to thin the mixture to the consistency of your application.
Pour puree into a storage bowl, cover and refrigerate until ready to serve.
Optional: Garnish with toasted pumpkin seed kernels.
Nutrition Information
Calories:
117,
Fat:
4g,
Carbohydrates:
15g,
Sodium:
11mg,
Fiber:
4,
Protein:
6g,
Cholesterol:
0mg