Irish-Colors Soda Bread Recipe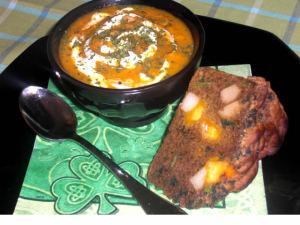 This bread provides a healthy dose of green tea tannins (EGCG) which help improve memory and possibly slow the progression of
cognitive impairment
. It is also a good source of protein, phosphorus and selenium, and a very good source of Vitamin A, K and Manganese.
Ingredients
1 medium Red Skin Potato, about 4-5 ounces, peeled, cut into ½-inch
cubes, cooked
5 oz. Kale, frozen, chopped, thawed, drained, squeezed dry
4 oz. Cheddar cheese, organic, preferable 100% grass feed,
cut into ½-inch cubes
2.5 cups Whole wheat pastry/graham flour (such as King Arthur
Brand or Bob's Red Mill Brand)
½ tsp. Salt
1.5 tsp. Baking Soda
2 Tbls. Matcha powder (*see notes below)
2 cups Buttermilk, low fat
Instructions
Preheat oven to 350 °F.
Peel potato and dice into ½-inch cubes. Steam or boil cubes until tender, drain and set aside. Thaw and squeeze kale dry then lightly chop and set aside. (You can also use fresh kale leaves; remove leaves from woody stems, chop leaves, blanch, sauté, or steam them until tender, cool and squeeze them dry). Chop a block of cheddar cheese into ½-inch cubes and set aside.
In a large bowl, combine flour, salt, baking soda and matcha powder. Stir in the buttermilk to make a stiff batter. Gently fold in the potato cubes, the chopped, drained kale leaves and the cheddar cubes just until evenly incorporated – do not over mix - quick breads need to get in the oven fast after the batter is moistened!
Moisten your hands with water and spread the batter into an 8-inch greased round pan. Bake until well browned, firm and cooked all the way through to the middle and brown and crusty on the surface, approximately 60-65 minutes. The loaf will sound somewhat hollow when you tap on its surface.
Remove from the oven, let cool a few minutes, cut into eighths and enjoy with soup or stew.
Nutrition Information
Calories:
154,
Fat:
4g,
Carbohydrates:
23g,
Sodium:
307mg,
Fiber:
3g,
Protein:
8g,
Cholesterol:
11mg