Homemade Harissa Spice Rub Mix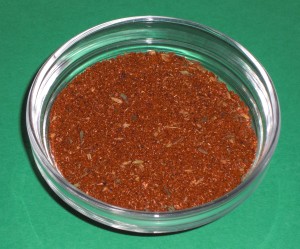 Harissa is a fiery chili paste or spice blend mix used liberally in Tunisia, other North African countries and the Middle East to flavor all kinds of foods and dishes such as soups, stews, tagines, marinades, hummus, couscous, vegetables, dips etc. The recipe varies by region and local taste but usually contains a common thread of dried red chilies, paprika, garlic, cumin and coriander. Harissa paste or sauce is quite easy to make homemade if you cannot find and buy it ready-made. I like to make up a batch of dry Harissa and use it as a spice rub on grilled meat, fish or vegetables, and when I want to make it into a paste or sauce I just blend my spice rub with a little olive oil, tomato paste or red pepper puree. Sometimes when I want to make a creamy Harissa sauce I'll blend this rub into some Greek yogurt or mayonnaise and then serve it on top of fish or veggie burgers, crab cakes, gyros and other sandwiches.
Ingredients
1Tbls. Caraway seeds (or 1.5 tsp. ground caraway powder)
1 Tbls. Fennel seeds (or 1.5 tsp. ground fennel seed powder)
1Tbls. Cumin Seeds (or 1.5 tsp. Ground cumin powder)
¼ cup Ground dried chili powder (mild or hot per your preference)
2 Tbls. Smoked Paprika (or) ground coriander
2 tsp. Garlic powder (not garlic salt)
1-1/2 tsp. Sea salt
1 tsp. Ground black peppercorns
1 tsp. Dried mint leaves (or any herb in the mint family such as, oregano, anise, lemon balm, lavender, etc.)
1 tsp. Ground coriander
½ tsp. Ground cinnamon
¼ tsp. Ground ginger
¼ - ½ tsp. Ground cayenne pepper (optional)
Instructions
In a dry skillet add the caraway seeds, fennel and cumin seeds. Heat skillet on medium-high heat. Shake the skillet over the heat until the spices start to toast and become fragrant, about 2 minutes. Remove skillet from heat and transfer spices to a mortal and petal bowl or a spice grinder and grind into a powder. (Note: if using pre-ground spices skip this step and proceed to step two.
Combine all ingredient and store in an air-tight container.
Notes
Per Tbls.: 20 Calories, 1g fat, 1g Protein, 3g Carbohydrates, 2g Dietary Fiber, 0mg Cholesterol, 262mg Sodium