Headache-Helping White Bean & Salmon Dip
A creamy, pink salmon dip or spread for appetizers or snacks. Spoon this dip into hollowed out cucumber barrels and garnish with a sprig of dill and a twist of lemon zest or just serve in a dip bowl surrounded by sesame crackers.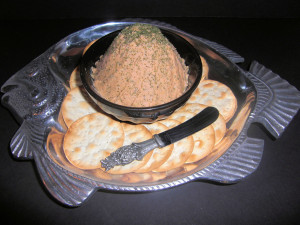 Headaches can be aggravated (among other things) by consuming the amino acid (Tyramine) found in aged cheese, fermented and pickled foods, artificial sweeteners, red wine, and large amounts of caffeine. This recipe contains none of that but, it does provide a good source of magnesium, potassium and omega three fatty acids, which all help in the fight against headaches.
Ingredients
2 pouches (5 oz. each) Wild Pink Salmon, cooked, skinless, boneless, crumbled
1 tsp. Garlic, minced
1 can (14.5 oz.) BPA-free Cannellini beans, or white beans, rinsed and drained
1 tsp. Salt-free lemon pepper seasoning (such as Ms. Dash)
2 Tbls. Lemon juice
1 Tbls. Tomato paste
½ tsp. Old Bay Seasoning, low sodium variety
2 tsp. Dried dill weed
1 tsp. Tabasco sauce
Instructions
Place all ingredients in a food processor (or use a hand blender) and puree until smooth.
Pour mixture into a serving bowl, cover and refrigerate until ready to serve.
Nutrition Information
Calories:
138,
Fat:
2g,
Carbohydrates:
18g,
Sodium:
230mg,
Fiber:
4g,
Protein:
12g,
Cholesterol:
16mg