Chocolate Zucchini Spice Bread Recipe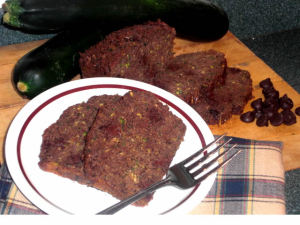 This recipe has a rich, mellow taste of chocolate, a snap of spice, and a mere hint of maple sweetness. It is also packed with ingredients that can help ease depression, is Paleo diet acceptable and gluten- free, as well.
Ingredients
1⁄2 cup Cocoa powder
1 Tbls. Powdered ginger
2 tsp. Ground cinnamon
1 tsp. Ground allspice
1 cup Almond meal
1⁄4 cup Coconut flour
1 tsp. Baking powder
1 tsp. Baking soda
3⁄4 cup Eggs, beaten
⅓ cup Maple syrup (100% maple, not pancake syrup)
1⁄4 cup Coconut milk
½ cup Pureed avocado
1 tsp. Vanilla extract
2 cups Zucchini, shredded, squeezed dry by twisting in clean dry cheesecloth or
⅓ cup Chocolate chips, 60% cocoa
kitchen towel.
Instructions
Preheat oven to 350°F.
Grease a medium (8" x 4") loaf pan with coconut oil.
In a large bowl combine the cocoa powder, ginger, cinnamon, allspice, almond meal, coconut flour baking powder and baking soda.
In another bowl whisk together the eggs, maple syrup, coconut milk, pureed avocado and vanilla extract. Pour the wet ingredients and the zucchini into the dry ingredient bowl and blend until evenly combined. Fold in chocolate chips.
Pour batter into prepared loaf pan and bake in the preheated oven for 55-60 minutes or until a knife inserted in the middle comes out clean.
Cool and refrigerate before cutting into slices.
Notes
Note: Most of the fresh fruits and vegetables sold in your local grocer's produce department are not GMO. However, a few exceptions that are of "high probability" for being GMO (unless, their labeling states they are certified organic) includes; summer squash (both zucchini & yellow varieties), sweet corn, edamame (soy), and papayas. Therefore, if you purchase zucchini from the market try to buy ones that are certified organic.
Nutrition Information
Calories:
164,
Fat:
8g,
Carbohydrates:
18g,
Sodium:
180mg,
Fiber:
3g,
Protein:
9g,
Cholesterol:
74mg