Creamed Corn Curry Recipe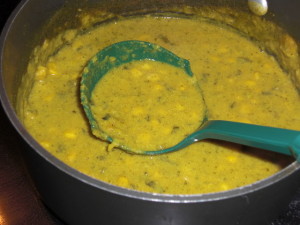 Creamed corn curry can be served as a sauce for meats, fish and poultry. I also like to serve it as a tasty dipping sauce for oven-fried sweet potato wedges, or as a soup poured into baked acorn squash bowls garnished with a sprinkling of chopped basil and toasted coconut shavings.
Ingredients
¼ cup Leeks, finely chopped
1 Tbls. Avocado oil
1 oz. Jalapeno, minced
2 cups Corn kernels, yellow, fresh, frozen or canned & drained
1 Tbls. Sugar, granulated coconut nectar (optional)
½ tsp. Garlic powder
3 Tbls. Fresh Basil, julienne cut (thin strips)
1 tsp. Soy sauce, low sodium
1 Tbls. Curry Powder
2 Tbls. Lime Juice
1.5 cups Coconut water
1.2 cup Milk, whole (3.25% milk ) or light coconut milk
Instructions
In a sauce pot, sauté leeks and jalapeno in oil until soft (about 1-2 minutes). Add corn, sugar, garlic powder, basil, soy sauce, curry powder, lime juice, coconut water and milk, bring mixture to a light boil then remove from heat.
Using a ladle, remove one half of the mixture to a separate bowl and puree removed mixture using a cocktail blender or hand immersion blender.
Return pureed mixture into the sauce pot (with the un-pureed mixture) and return pot to heat. Bring mixture back to a simmer then serve.
Nutrition Information
Calories:
143,
Fat:
6g,
Carbohydrates:
24g,
Sodium:
64mg,
Fiber:
2g,
Protein:
4g,
Cholesterol:
0mg