Salmon Slider Recipe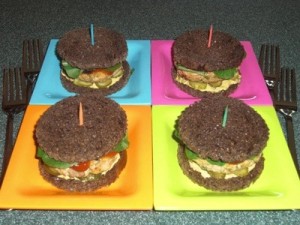 Ingredients
¾ lb. Salmon fillets, wild caught, raw, skinless
½ cup Panko Breadcrumbs
1 Tbls. Garlic, minced
2 Tbls. Ginger, minced
2 Tbls. Scallions, finely chopped
1 tsp. Mustard Powder
1 tsp. Chili Paste
2 tsp. Soy Sauce, low sodium
2 Tbls. Cilantro, chopped
2 Tbls. Egg White
16 slices Pumpernickel Bread, 6-inch oblong slices
cut into 3" rounds
⅜ cup Dill Pickle, sliced
½ cup Watercress Sprigs
4 Tbls. Ketchup
4 Tbls. Dijon Mustard
2 tsp. Wasabi Powder
Instructions
Cut skin off salmon filets and then cut fillets into 1-inch pieces. Place pieces in a food processor. Pulse until the fish is finely chopped but not pureed. Remove ⅔ of the mixture into a mixing bowl. Process the remaining ⅓ until it becomes a paste. Combine the fish paste with the reserved chopped fish in the mixing bowl. Add the Panko (Japanese bread crumbs), garlic, scallions, mustard powder, chili paste, soy sauce, cilantro and egg white. Mix all ingredients gently to evenly combine. Divide the mixture into 8 even portions and form into patties about 3 inches wide and ½ inch thick. Place patties on a baking sheet and cover with plastic wrap. Refrigerate until ready to cook.
Meanwhile, use a 3-inch round biscuit cutter and cut 16 rounds out of the pumpernickel bread slices. Cover bread rounds with plastic wrap or place them in a zip lock bag so they will not dry out before you are ready to assemble the sliders.
Place ketchup and mustard in two small prep bowls. Add 1 tsp. of wasabi powder to each and mix until well incorporated.
Slice dill pickle into thin slices and rinse and dry watercress. (Spinach, lettuce, or fresee, can be used as a substitute if watercress is unavailable).
In a heavy bottom skillet heat 2 tablespoons of olive oil over moderately high heat. When oil is hot, season salmon patties with kosher salt and pepper and add the burgers to the skillet and cook, turning once, until patties are golden brown on both sides and the meat is cooked through – about 3 minutes per side.
Notes
To Serve: Place 8 pumpernickel rounds on a cutting board. Cover each slice with dill pickle slices and a dollop of wasabi mustard. Place a hot salmon patty on each round. Place a dollop of wasabi ketchup and some watercress on the top of each patty. Cover with remaining eight rounds of pumpernickel to create eight small sliders. Insert a frilled toothpick into each salmon slider to help keep them neatly together. Transfer slider to a serving platter and serve immediately.
Nutrition Information
Calories:
178,
Fat:
5g,
Carbohydrates:
20g,
Sodium:
592mg,
Fiber:
3g,
Protein:
14g,
Cholesterol:
22mg