ADHD-Fighting Frozen Banana Nut Soft Serve Desserts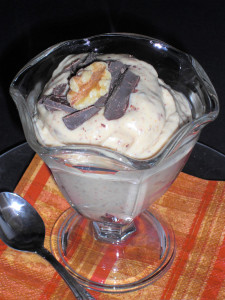 This easy to make dessert provides ADHD kids a treat with protein, fiber, vitamins and omega 3's and fits into a gluten-free, casein free diet plan.
Ingredients
2 Bananas, peeled
2 Tbls. *Nut butter, (your choice of almond, peanut, walnut,
cashew etc.), with no added sugar
2 Tbls. Diaya Cream Cheese Style Spread, plain (gluten free,
casein free, soy free spread)
2 Tbls. Ground flax seeds (flax meal), brown or golden
2 Tbls. Almond milk, unsweetened
1 Tbls. Coconut nectar (or) 100% maple syrup (do not use
pancake syrups they often contain high fructose corn syrup)
1 tsp. Vanilla extract (Do not use imitation vanilla)
Instructions
Peel bananas and discard peels. Cut bananas into ½-inch thick slices or cubes then wrap them in a piece of plastic wrap and freeze until frozen solid.
When ready to prepare the soft serve dessert, remove the banana slices from the freezer, unwrap the plastic wrap and place the frozen banana slices in a food processor fitted with a metal blade and the remaining ingredients. Process the ingredients until the mixture is smooth and creamy. If mixture is too thick add a few drops of almond milk. If mixture is too thin, add some ice cubes and re-blend until smooth but stiffer.
Divide mixture into two individual serving bowls and serve immediately.
Optional: Sprinkle with a choice of chopped nuts, sunflower seeds, pepitas (hulled pumpkin seeds) or dark chocolate chips as garnish.